The Z5 PLUS co-pay card allows eligible patients to get Zemplar Capsules for just $5 a month (good for 12 Rx fills), as well as save up to $20 per month on oral blood pressure medications (up to 2 blood pressure medications per month). Restrictions apply.*
The Z5 PLUS Card is ready to use right away. Follow these simple steps:
1)
Click the link below to print out your Z5 PLUS Card
2)
Give the card to your pharmacist - Get your Zemplar prescription for just $5 a month and SAVE up to $20 per month on your blood pressure medications (up to 2 per month)
3)
Continue saving for 12 Rx fills - After 12 Rx fills, you can print out a new card at
Zemplar.com
Questions?
Call myZEMPLAR at 1-877-ZEMPLAR (1-877-936-7527).
Z5 PLUS co-pay card restrictions
Maximum benefit for 30-day supply of Zemplar
Capsules: 1 mcg=$195; 2 mcg=$390; 4 mcg=$780
*Legal Notices: 1. Most eligible patients with private prescription insurance will pay $5 per month for ZEMPLAR Capsules. Eligible patients who are uninsured or those who are paying cash may save up to a maximum of $195, $390, or $780, respectively, on a 30-day supply of the ZEMPLAR Capsules 1 mcg, 2 mcg, or 4 mcg dosage strength. 2. The ZEMPLAR Z5 PLUS Program is void where prohibited by law. Co-pay savings are not valid for persons eligible for reimbursement, in whole or in part, under Medicare, Medicaid, or similar federal or state programs. In Massachusetts, offer not valid for products with AB-rated generics. 3. AbbVie reserves the right to rescind, revoke, or amend the ZEMPLAR Z5 PLUS Program offer without notice.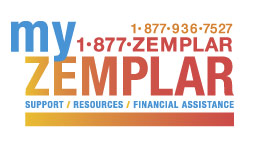 myZEMPLAR, can:
Help verify whether you're eligible for Medicare LIS or the "Extra Help" program† ‡
Help determine whether you're eligible to get ZEMPLAR at no cost through an independent co-pay foundation or the AbbVie Patient Assistance Foundation† ‡

Help you get started with the Z5 PLUS card, which provides instant savings at the pharmacy
†Restrictions apply.

‡Please be aware in order to determine your eligibility for financial assistance programs, you may be asked questions about your income level.
Use1
ZEMPLAR® (paricalcitol) Capsules are an active form of vitamin D used to prevent and treat secondary hyperparathyroidism (increased parathyroid hormone levels) in patients with Stage 3 or Stage 4 chronic kidney disease and in Stage 5 patients on dialysis.
To help lower your chance of getting symptoms of high calcium in your blood, your doctor should make sure the level of calcium in your blood is 9.5 mg/dL or lower before starting you on ZEMPLAR Capsules if you have Stage 5 kidney failure and are on dialysis.
Important Safety Facts About Zemplar1
You should not start or continue to take ZEMPLAR if you have symptoms of high calcium or vitamin D, or if you have an allergy to ZEMPLAR or any of its ingredients.

Taking too much vitamin D or using it for a long time may cause high calcium levels, which can cause serious health problems and the need for emergency medical attention. Tell your doctor if you are having signs of high calcium levels, which include feeling tired, difficulty thinking clearly, loss of appetite, nausea, vomiting, constipation, increased thirst, increased urination, and weight loss.

Before and while taking ZEMPLAR, tell your doctor about all medications that you are taking, including prescription and nonprescription drugs, aluminum-containing compounds, supplements, and herbal preparations, or any change in your medical condition.
Please see Important Safety Information
Please see full Prescribing Information for Zemplar (paricalcitol) Capsules
and discuss it with your healthcare provider.
Reference:
ZEMPLAR® (paricalcitol) Capsules [package insert].
ZEMPLAR Capsules Safety Facts